Re: Similar to a five lined skink?
---
[ Follow Ups ] [ Post Followup ] [ What Kind of Lizard Forum ]
---
Posted by Ingo on December 09, 2002 at 01:12:02:
In Reply to: Similar to a five lined skink? posted by LisaOKC on December 06, 2002 at 19:22:56: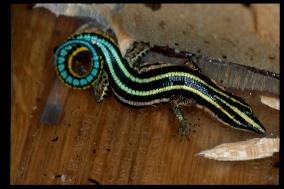 Hm...somewhat cryxptic your text.Of course all skinks are lizards but not all lizards are skinks.
There are many many skink species which look very similar to five lined skinks.
But maybe you are referring to holaspis guentheri
Keep in mind that these are arboreal rainforest dwellers!
Ci@o
Ingo


---
---