Re: Rough Scale Sand Boas
---
[ Follow Ups ] [ Post Followup ] [ The Rosy and Sandboa Forum ]
---
Posted by chrish on March 24, 2003 at 12:27:13:
In Reply to: Rough Scale Sand Boas posted by winkle on March 24, 2003 at 06:10:28: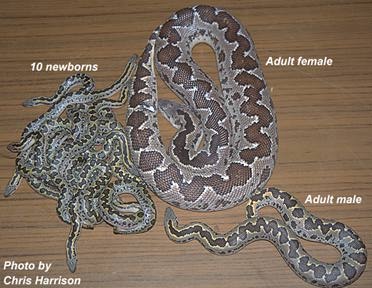 The largest rough scaled I ever had was a female that was probably around 30 inches long and weighed 600 grams at maximum weight (it varied depending on where she was in the breeding cycle). She could eat 2-3 adult mice or rat pups per feeding.
I had two other breeder females that were around 300 grams and were just under 2 feet in length. These were both cbb and were around 5 years old at the time that I measured them (they had bred successfully the previous year, so they were adults). They usually didn't eat anything larger than a hopper sized mouse.
My male which I raised up and bred never weighed more than 89 grams and was probably less than 18 inches in total length. He would eat fuzzies.
This is a pic of my large female (within a few days of giving birth - probably weighing around 450 grams at the time) with my male and a clutch of ten newborns.
---
---