Re: Critter of interest
---
[ Follow Ups ] [ Post Followup ] [ The Elapidae Forum ]
---
Posted by WW on November 17, 2002 at 02:15:15:
In Reply to: Re: Critter of interest posted by rayhoser on November 16, 2002 at 15:57:59:
:I tried to get more than one up but failed.
:Thanks anyway
Hmmm - don't know why not. Just insert the same formula I gave you, but a separarte one for each image you want to post.
Right-click on this post and select "View Source" if you keep having trouble. You will then see the src img="... formula for each pic in the post.
Cheers,
Wolfgang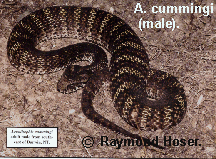 ---
---