I spray my 18 babies with water at least twice a day (more
---
[ Follow Ups ] [ Post Followup ] [ The Bearded Dragon Forum ]
---
Posted by Gunilla on October 30, 2002 at 09:33:00:
In Reply to: delilah is like 2 months old and around 9 posted by STARMOM on October 30, 2002 at 08:18:46: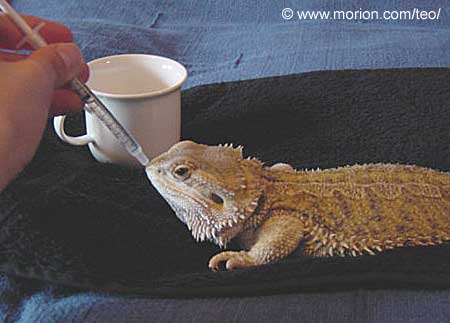 I spray my 18 babies with water at least twice a day - AND offer them water via a syringe (without the needle!) every day too. I offer my adult dragons water every second day or so. None of my dragons drinks from a bowl... They are 5½ weeks old and I have only soaked them 2 times. If I were you I would wait with the soaking until she is more used to her new home. Too much "new stuff" can stress her out...
I have written more about water here:
http://www.morion.com/teo/english/experience/frame.html
Look for "water" in the left frameborder.
---
---